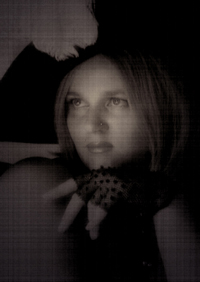 The name is Tatiana
Born, somewhat educated, still alive (which makes my artwork not very valuable-yet:)...Does anyone care for official info?
I am feeling alive only when I am able to create...my poems, paintings, photography, computer generated images...anything enticing to look at and feel!
I spend most of my life in my imaginary world and can you blame me? In there I can be anything I like to be...or nothing at times.
I rely on a security of a keyboard to communicate with the world.
I do not sit and think of what to create-it is alwyas in my head, too much perhaps, current project is always the one that got to the entrance first (pushing others aside-just like in real life).
I love theater, was envolved with it since early teenage years; dreaming of a day when I will be able to open my very own experimental theater studio, implementing the images and sounds and moves that are chasing me constantly( don't worry, this is just an artistic expression, I am not totally crazy...yet:)
Love music- classical, opera and rock. "Moon Sonata"(Beethoven), "I Pagliacci"(Leoncavallo) and "My own Prison"(Creed)-rather strange selection? Love it!
Favorite artists-Salvador Dali (the world of subconscious), Matisse (colors), Gustav Klimt (sensuality), Aiwasovski (forces of nature), Alexandr Arkhipenko ( pure form), Frank Frazetta(imaginary worlds).
Are you still here????? Wow! Impressed! Send me an email, we might become friends:) I like people who like me (don't you?)
If you still wondering, what is this all about, I can't really help you much...well, you may read some of my thoughts about...well, life in general. Hope to see you in my Art Gallery, actually that's what this web site is all about.
Right now I am mostly interested in sculpture, photo editing and figure skating!

Tatiana Malinko©2005